By Sparky

I'll admit this is little (as in, a decade) late, but it's still an interesting game. It is a bit difficult to review though, considering almost everyone has heard of it, and the way it has spawned an astoundingly popular series which, in spite of barely changing over the years, is still going strong and has sold one hundred and seventy five million games. And, its developer, Game Freak, is still going, even though the only other game they've made I can think of is Game Boy Camera (eight out of ten, by the way). The picture on the right's a Ford Tempo, just in case you wanted to know.
Remember this? Professor Oak's friendly greeting before proceeding to try and steal your whole life. The stern face staring at you out of the gray background gave no indication of the cripplingly addictive game you had just started playing. And that was what made it so successful. It appealed to everyone with an instinctive urge to collect, with its overriding, and grammatically disgusting, message of "gotta catch 'em all", with about ten exclamation marks. And the ridiculously clever (from a business perspective) catch? There's two nearly identical games, but some Pokémon are only in one. Pure commercial genius; pure evil.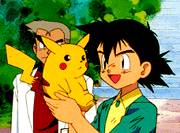 But that's what made Pokémon what it is. It wasn't made as a game; it was designed solely to make ridiculous amounts of money for Nintendo. Two games wasn't enough. They released a third, Yellow, which is only different because Pikachu is your starter Pokémon. But why'd they do that? Solely to appeal to anyone who'd seen the TV show based on the game. Sort of a game based on a cartoon based on a game, I guess. The cartoon was extremely successful, and was translated into English for American and British audiences, and is still going on to this day. Just by the by, don't you just want to punch him in the face?
Then they made a film, then they made another ten, and the twelfth is in production, scheduled for a 2009 release in Japan. In addition to all this, there's comic books, stuffed toys, card games, a Pokémon-themed Boeing 747, live action shows, T-shirts, and even epilepsy. Pokémon has left a permanent stamp on pop culture which, at this rate, we'll never be free of. Because of this display of sheer marketing brilliance, I am obliged to give this game:
Ten out of ten
One Response to "Pokemon Red"



fo Pokémon rocks, don't buy the merchadise, silly.. That's for Japanese people.